Chapter 28


"Oh, Lennie, I want you to meet Bob. He helped me a lot. Now, where's he got to?" Creamy looked round. "Ah, there he is; seems to have stopped for a chat with cousin Boria. Bob! Come, join us here."
Bob hopped over, shook paws all round and sat down.
"To tell you the truth, Bob," whispered Lennie leaning over to him, "I was afraid I might never see Creamy again."
"I can tell you, I was a bit worried myself when I saw him jump out of that car!" said Bob.
"Really? You must tell me about it – but wait, I'm sure Grandpa Oleg will want to hear about it as well. He's over there, come along," said Lennie.
It was a good few minutes before they were back. They had just sat down when there were cries of SILENCE! SILENCE PLEASE! and Grandpa Oleg got to his feet.
A hush fell on the Hall. Smiling kindly upon Creamy and Lennie in turn, Grandpa Oleg spoke.
"It's getting late, and we are nearly ready now for the most important part of our annual reunion."
"Hear! Hear!" cried several young Huskies by the door.
Grandpa Oleg smiled at them; and then waved his paw, as he spotted Satie standing next to them. "Mr Satie!" he cried. "You come right up here. You are our guest tonight so please come and sit with us."
There were cheers as well as cries of surprise as Satie sauntered forward, waving graciously right and left on his way to the top table.
Grandpa Oleg continued: "As I was saying, it's time now for us to end our reunion night as we always do – by awarding the annual Top Dog of the Year medal to a member of our family. As you know, we dogs prize loyalty greatly; it is what we are justly famous for."
"Hear! Hear!" cried the young huskies again.
Grandpa Oleg waited for the cheering to subside and continued: "Tonight we award this medal for an act of outstanding loyalty. Earlier this evening, I learnt of just such an act. I was told of how a member of our family had bravely faced up to dangerous criminals to save his friend."
Grandpa Oleg paused for a moment and picked up a small box which rested on the table in front of him. "That member was none other than our beloved Creamy," he announced smiling at him. "Step forward, Creamy, to collect your Top Dog of the Year medal!"
The shouting and cheering that broke out this time nearly brought the roof down. Creamy stood and glowed, as cries of Hurrah! Hurrah! Hurrah! rolled round the hall, and one by one every last dog in the room stood up to applaud Creamy.
Creamy blinked hard as Lennie leapt to his feet and led the Hall in singing for him one of his favourite songs: For he's a jolly good fellow! For he's a jolly good fellow!
When the song and applause ended, Creamy walked slowly back to his chair and sat down, his heart overflowing.
Lennie patted his paw and whispered: "Thank you, my friend. And well done. You made your dream come true."
And all Creamy could do was sit there, and smile and smile.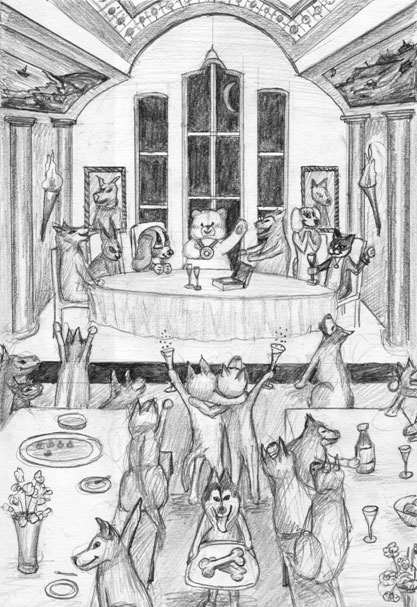 THE END
To give the book as a gift to a family member or loved one, buy your copy of the complete book, Castaway Creamy, today!