Chapter 26


"Sorry, Lennie. I messed up again, didn't I?"
"Well…up to a point. But only up to a point. I mean it wasn't really your fault that Mimi asked you to cut all her hair off, was it?"
"You think not?"
"Absolutely not."
Still slightly out of breath after speeding away from the hairdresser's, Creamy and Lennie were walking past a very large gate, behind which two dogs sat, chatting to each other. Lennie raised his paw and gave them a friendly wave.
"Nice day, isn't it," he said, casting a quick glance at the sign by the gate. The sign said: Guarded by Elite Dogs Company.
"Not bad, I suppose; though we'd swap places any time with you strolling out there," said the larger of the two dogs wistfully. "I mean, what's the use of a nice day to us, stuck by this gate with nothing to do but sit here and yap when anyone passes."
"You mean you're getting paid for just sitting there?"
"Not just sitting; we're also supposed to guard the place. See that house at the top? We are supposed not to let anyone come near it. Day after day, we sit here – soooo boring! The pay is good, but frankly, I don't see how we can survive another week of it."
Lennie smiled. "If you like, we could stand in…I mean sit in for you for a few days. We're sort of between jobs…"
The dogs jumped up, their faces wreathed in smiles. "Would you? That would be really nice. We'd of course give you the money they pay us, at the end of the week – if you could make it a week, that is."
Lennie and Creamy exchanged glances.
"Excellent!" smiled Lennie. "When would you like us to start?"
"Right away would be great!"
"Sure! Sure! We'll be happy to. How do we get in?"
"Oh, you can just walk straight in through the side gate, we're not guarding that! Not in our job description."
Lennie and Creamy trotted in. The two guard dogs bounded up to them, shook paws all round, and rushed out of the gate with merry cries of: "See you next Monday! Have a nice time! Enjoy yourselves."
"Same to you," shouted Lennie. "Take care!"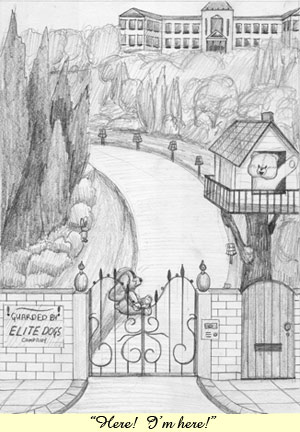 "By the way," shouted the larger dog, turning round, "a food delivery van comes round twice a day, so you won't starve."
"That's nice, thanks!" called out Lennie, and trotted over to sit by the gate. "I have to say, Creamy, it's been a bit of luck for us, hasn't it. We've just walked into a new job."
There was no reply from Creamy.
"Creamy?"
"Here! I'm here."
"Where?" cried Lennie, looking round.
"Here! Up in the tree!"
Lennie looked up, and there was Creamy, a big smile on his face, waving at him from a window of a tree house, a little way up the drive.
"Oh, no! Come down, Creamy! We're supposed to sit by the gate."
"Don't see why. You can see the gate perfectly well from here!"
"That's as may be. But you can't guard it properly from there. Do get down!"
"Oh, OK, spoilsport," grumbled Creamy, as he climbed down the tree. "On my way."
For a short while, there was silence. Lennie had put his head on his paws and was watching ants making their way slowly past his nose on the ground. Creamy sat and yawned.
All of a sudden, he jumped up. "I've got a cramp!" he cried hopping round and stamping hard on his foot. "Ah! That's better! I think I'll take a little walk, Lennie, it'll do my cramp good, I'm sure."
"I thought you said it was better."
"Not quite. Besides, isn't it about time the food van came? I'll just pop out to take a look, shall I?" And before Lennie could even open his mouth, he was on the other side of the gate, pacing and casting anxious looks up and down the road.
Lennie sighed. Poor Creamy. Not made to be a guard dog. But then, this isn't the most exciting job for any dog, he thought and went back to watching the ants pass.
Suddenly, there was a happy shout from Creamy. "Here it comes, Lennie! Must be our food."
Lennie leapt to his feet and watched as a car pulled up. Creamy rushed over to it. "Have you brought our food?"