Chapter 25


Lennie came out of the little room at the back of the hairdresser's. 'So what do you think, Creamy? Do I look the part?'
Creamy turned round and chuckled. 'Never seen you in a white jacket and clogs. What are they for?'
'Well, two things really: firstly, I don't look like a dog who has just walked in from the street; I look like a hair stylist. Secondly, it will keep the hair off me as I cut. By the way, I found a jacket for you, too.'
'Do I really have to wear a jacket?'
'Yes,' said Lennie shortly. 'Off you go now. And bring the broom with you when you come out. No rush, so take your time.'
Creamy went. He did not need any encouragement to take his time. Leisurely, he looked round the back room. He made a face at a jacket Lennie had laid out for him, but his eyes lit up at the sight of a small video–player in the corner. He trotted over to it and clicked the play button. The screen above it lit up.
'Lennie! Come and see this! There's a film on! It's all about cutting hair!'
But Lennie did not hear him. He was busy opening the door to a woman, and bowing politely to welcome her in.
'I'm sorry I'm late, but I got chatting… Oh! Who are you?' exclaimed the woman staring hard at Lennie.
'Good afternoon, madam, I'm the new hairstylist. May I take your coat?'
There was a moment's silence, as the woman took Lennie in. Suddenly, she smiled, and opening her coat, gently let a small poodle down on the floor. 'This is Mimi,' she said. 'Be sure she has her usual place to rest in while she waits for me. It's very important that her hair is not messed up; we're on our way to a most important show – it's the finals in her class.'
'Indeed, madam. I'll ask my assistant to take special care of Mimi. Please take a seat. I'll be back shortly. Come along, Mimi.'
In another moment, Lennie was back. He was slightly worried by the way Creamy stared at Mimi's hairstyle, and could only hope he would be nice to her.
He need not have worried; Creamy certainly was nice to Mimi.
For a start, Mimi said all the right things, such as that Lennie seemed a very kind dog; and that she liked his – Creamy's – spiky hairstyle. But what he most especially liked was that she asked if they were brothers. Nothing could have pleased Creamy more than that, or make him think more highly of Mimi.
There was also the fact that Creamy had never seen anything like Mimi in his life and his first thought was that she was a small sheep.
'Are you a sheep?' he asked.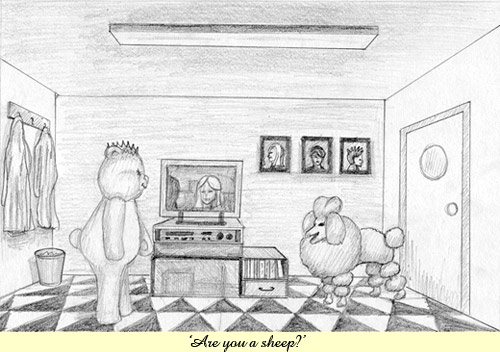 Mimi laughed. 'No, though I sometimes wish I were. Sheep have their hair cut off now and then, but at least it is cut the same all over, not just in spots. I wish I could have a haircut like that. I mean, look at me. What do I look like?'
'Well, you do look funny,' laughed Creamy.
'See? And I not only look funny, but I am put in dog shows for everyone to look at my funny hairstyle.'
Creamy gasped. 'You aren't! But that's … that's disgraceful. You mean people come to laugh at you?'