A word from the author:
Creamy is a large bear, who thinks he is a dog. He is totally devoted to Lennie, who had befriended him after Creamy had escaped his captors on the way to the Zoo. The two friends travel the world together, and their adventures are recorded in Creamy Stories.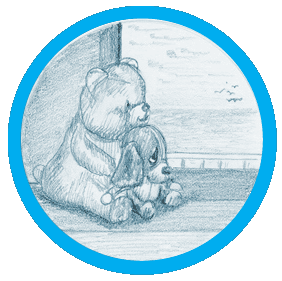 Lennie is not only Creamy's friend, but also his mentor. He is the voice of reason and common sense. His brains, calm and tact balance Creamy's quick temper and impetuosity, and help smooth their path as they go along. Their travels are complicated by episodes in which Creamy's efforts to act like a dog get them into trouble time and again.
The first leg of their journey is aboard a ship bound for St. Petersburg. Creamy hopes to prove to his friend that he is a dog by taking him to a family re-union there. Unfortunately, Creamy's anger at being taken for a bear lands them overboard.
Their many adventures following their rescue come about largely through Creamy's actions, which invariably lead to further delays in reaching St Petersburg. He manages to mess up every attempt Lennie makes to enable them to carry on their travels.
Not having any money, they work their way from place to place. However, each enterprise they embark on to earn their living and pay for the trip seems to take them further and further away from their journey's end – largely because of Creamy. They get to see a lot of the world, and learn a lot of skills, but they also wind up taking the longest possible way to reach their goal: the family reunion in St Petersburg.
When they eventually reach there, Lennie is in for a shock……
Now read on!
Happy travels with Creamy!
And lots of fun!

Bea Kay